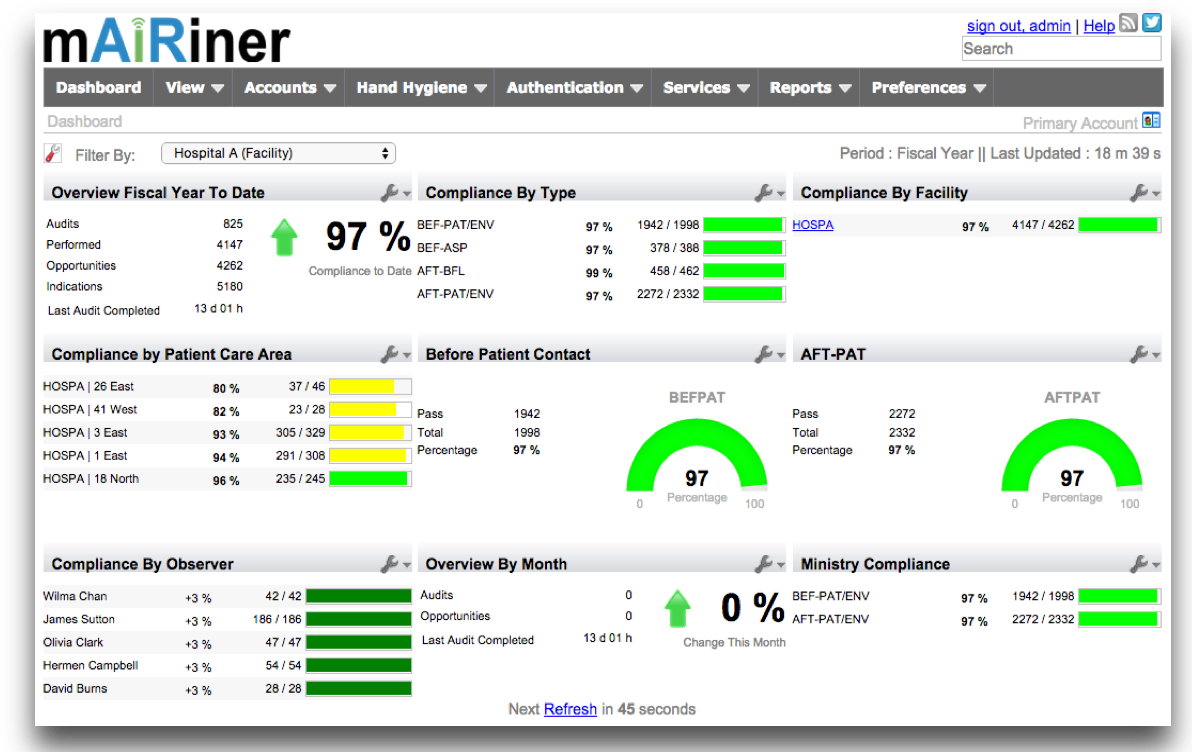 mAiRiner is a cloud based hand hygiene auditing solution that provides real time custom hand hygiene dashboards, live reporting and flexible report distribution all at your finger tips. mAiRiner supports multiple facilities and units under a single corporate account.
Benefits
Easy to Deploy and get started
Consistent and Easy Auditing Experience
No Transcription Errors
Hassle Free Reporting
Real Time Access to Data
Editions
mAiRiner supports three paid tiers.
Professional
---
Professional Includes:
Unlimited Observations
Single Facility
Unlimited Units
Unlimited Auditors
m2go for Windows and IOS
Ten Report Styles Included
Basic Dashboard
Single Administrator Account
Monthly Database Backups
Email Support
Enterprise
---
Professional Plus:
Unlimited Facilities
Unlimited Auditing Devices
Web based Auditing
Enhanced Dashboard
Canned Auditor Notes
Thirty Report Styles Included
Your Logo on Reports
Five Report Distribution Lists
Email and Phone Support
Daily Database Backups
Ultimate
---
Enterprise Plus:
Custom Dashboards
Public Dashboards
Corporate Score Card Integration
Audit Reminders
80+ Report Styles
Report Sharing
Report Cloning
Automatic Audit Summaries
Hourly Database Backups
User Groups
Program and Unit Groups
Report Categories
---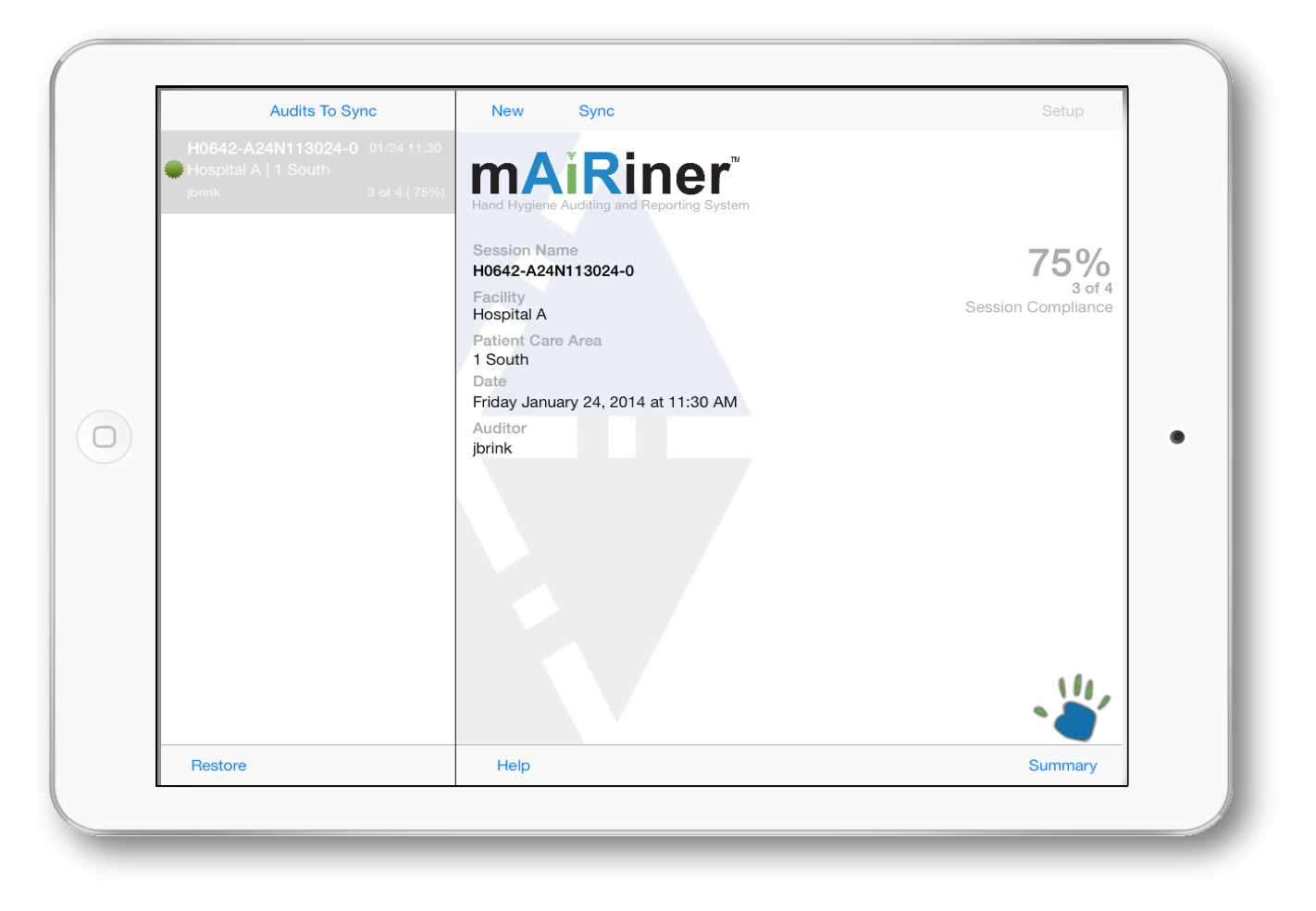 m2go Auditing Software
m2go allows you to efficiently and quickly collect hand hygiene compliance data using a mobile phone or tablet and sync them with a single tap to mAiRiner.

mAiRiner has versions of m2go for Windows desktops and tablets as well as Apple iPads, and iPhones. No m2go application, no problem, mAiRiner has a web based auditing interface that requires no installation.
Centralized Settings
All settings and configuration for m2go are pulled from the mAiRiner appliance to ensure that all your health care worker types, facilities, patient care areas and auditors are up to date.
Real Time Access to Audits
Auditors can use the real-time data to identify and address any immediate need for procedural changes and/or retraining.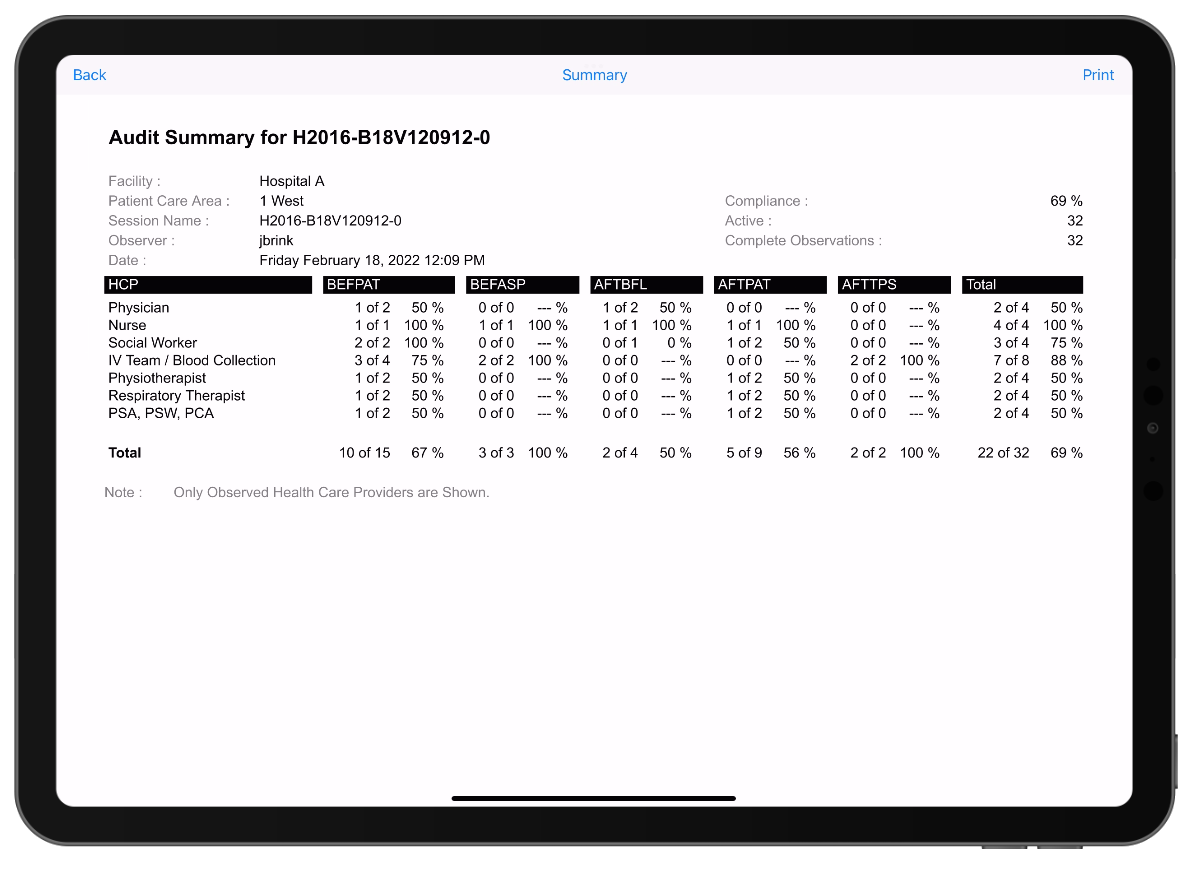 Provide Immediate Feedback
You don't have to wait for formal reports to share audit results with staff on the floor! As soon as you're done auditing, share the results and provide them with feedback without even having to sync the data!
Sync Audits in Seconds
m2go sync's with mAiRiner directly over a wireless network configuration. Sync'ing audits is quick and easy and only takes a couple of seconds to complete.